Farm to Chopsticks is a celebration that will bring together Forward Movement staff, supporters, and socially-conscious Angelenos who are inspired by culinary innovation and local produce.
This is a night about reconnecting with our roots and eating how our ancestors ate. FTC will feature local chefs, who will prepare food sourced from our partner Padao Farms, located in Fresno. We have worked with these Hmong farmers for over 4 years to grow and cultivate the Roots community-supported agriculture program.
We would like to proudly thank our sponsors for this event:
---
Purchase Your Ticket(s)
Farm to Chopsticks Logistics
About Our Awardees
About Our Emcee
About Our Chef
About Our Drinks
Sponsorship
---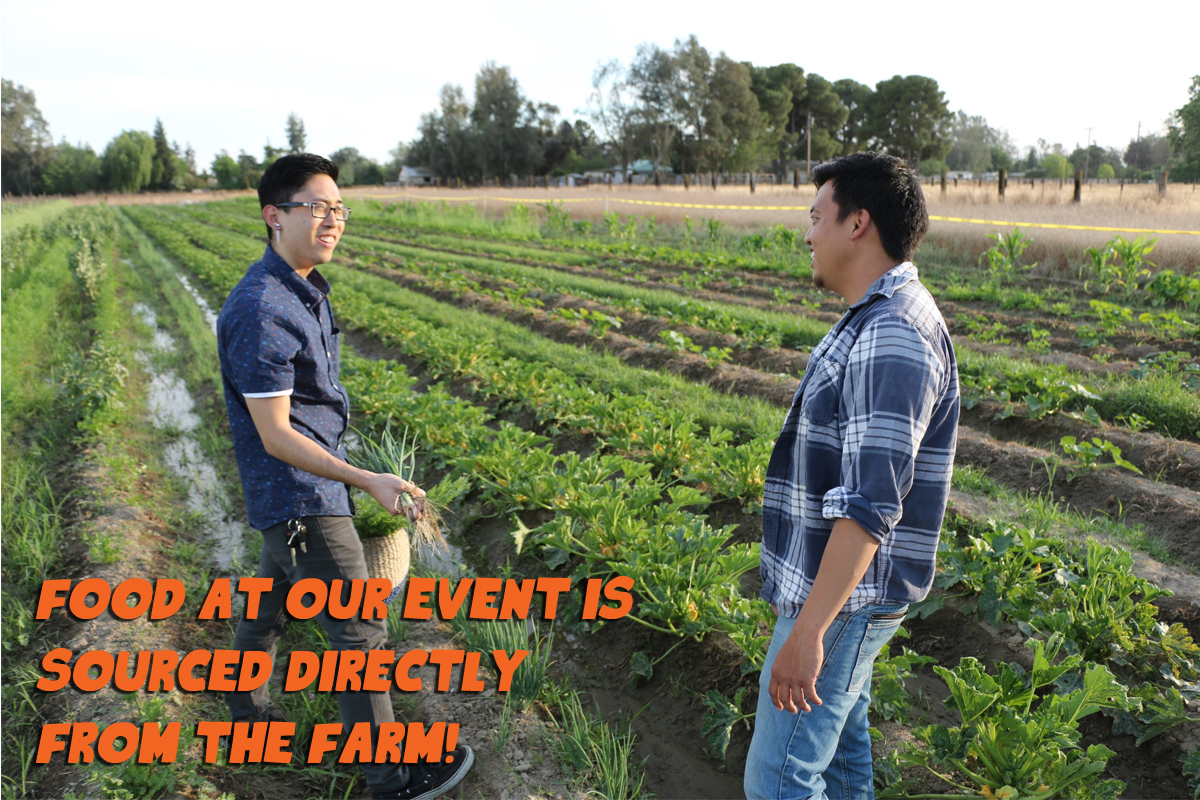 Date: August 10, 2017
Time: 6pm – 8pm, VIP is from 6pm – 6:30pm
Location: Japanese American Cultural and Community Center, Garden Tea Room
Attire: Business Casual
Parking:  Here are a few parking lots in the area:
Joe's Auto Parks
350 E. 2nd St, Los Angeles, CA, 90012 (4 min walk)
Rate: $10 daily / $5 after 4pm
Time: 6:00am-12:30am
Japanese Village Plaza
111 S. Central Ave, Los Angeles, CA, 90012 (5 min walk)
Rate: $10
Time: 24/7 (no overnight parking)
Joe's Auto Parks (Little Tokyo Mall)
319 E. 2nd St, Los Angeles, CA, 90012 (3 min walk)
Rate: $10 daily / $5 after 4pm
Time: 24/7
Aiso Parking Lot
101 Judge John Aiso St, Los Angeles, CA 90012 (5 min walk)
Rate: $14 daily / $3 after 5pm
Time: 7:00am – 12:00am
All proceeds from Farm to Chopsticks will support Forward Movement's efforts to make healthy Asian produce more affordable and accessible for families in Los Angeles County.
---
Community Supporter:
Carol Lee, Conrad N. Hilton Foundation
Carol Lee has devoted her entire professional career to the nonprofit and philanthropic sectors, and is currently a member of the grants management team at the Conrad N. Hilton Foundation. In her free time, she manages the Circle of Change, a giving circle that supports Asian American and Pacific Islander organizations working to make a positive change within AAPI communities located in the Los Angeles, Orange County or Inland Empire areas. Carol is a native Angeleno who cherishes all the diversity and good food that LA has to offer. She also enjoys Fitbit challenges, the occasional half-marathon, and overanalyzing her favorite TV shows and movies.
Community Leader:
Kevin Liao, Para Los Ninos
Kevin Liao was born and raised in Chinatown, Los Angeles and currently lives in Lincoln Heights, a small residential community 3 miles away from Chinatown. He's a fourth year student at Cal State LA where he is pursuing a degree in Biology. Currently he works at a non-profit called Para Los Ninos where he works on projects on college prep, social justice, and youth empowerment with local youth.
Community Partner:
Chef Jessica Wang, LASA/Piquenique
Jess Wang is a Los Angeles based fermentation enthusiast and local food advocate. After being diagnosed with prediabetes in early 2014 while at her dream pastry job, Ms. Wang has sought a more intentional lifestyle for well-being and seeks to promote wellness in her community. She volunteers with  Asian Pacific Islander Forward Movement (APIFM), a nonprofit organization that brings sustainably grown produce from Asian family farms to LA neighborhoods through Roots Community Supported Agriculture (CSA). Through the CSA program and opportunities in friends' restaurant kitchens, she discovered the joy of working with vegetables, which led her to start Picklé, a fermented pickle project. She also runs PIQUENIQUE, a seasonal hand pie pop up, and works at Filipino inspired restaurant, LASA.
---

Quincy Surasmith is a jack-of-all-trades producer, organizer, and performing artist in Los Angeles. He hosts and produces the podcast Asian Americana, is the producer-editor of #GoodMuslimBadMuslim, and works as an assistant producer at KPCC. Quincy also organizes with Tuesday Night Project, and is a co-founder of Potluck: an Asian American Podcast Collective. Quincy graduated with a BA from UC Santa Cruz, where he studied theatre and history.
---
The AMAZING Minh Phan is the owner-chef of the acclaimed Porridge + Puffs and Mignardises. In addition to creatively feeding people, she is most proud of her #robinhood activities with the the community, sitting on the board and/or affiliated with Culinary Corps, the Hollywood Orchard, Food Forward, Slow Food LA, Food Policy Councils, The Huntington Library and Gardens, Muir Ranch, and the Edible Schoolyard at Cheremoya.
---
Brewery present at Farm to Chopsticks will be:
---
*VIP tickets will include free swag and special time with our celebrity chef!
---
We would like to proudly thank our sponsors for this event:
For sponsorship opportunities and/or additional information please contact Scott Chan at schan@apifm.org.